Blood Cleanup
If you're dealing with spilled blood after a workplace accident, crime, or death in Tennessee, you need professional and discreet blood cleanup. To protect yourself and the health of your space, Bio Solutions Tennessee is here for you with around the clock blood cleanup services.
Trust the Professionals for Discreet Blood Cleanup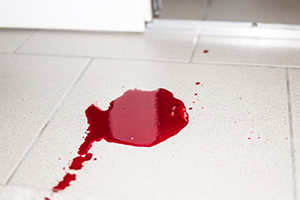 It's an awful situation when you have to deal with cleaning up blood in your Knoxville home, business, or vehicle. No matter how it happens, every scene with blood can now contain various bloodborne pathogens such as HIV and Hepatitis B and C. Dangerous and unseen, these pathogens can lurk on surfaces, ready to infect other people in the area or to damage the building structure if left unchecked.
To protect your investment and the health of those you care for, we are here to provide professional and discreet blood cleanup throughout the Knoxville area and surrounding communities. We understand how difficult a time this can be and so are here to help you through by taking the responsibility of compassionate cleanup onto our own shoulders.
Never let a friend or family member volunteer to do the cleanup for you. Not only can the cleanup be emotionally and physically damaging, but blood is legally classified as a biohazard. This means specific steps must be followed that are outlined by local rules and regulations and the infected material disposed of as medical waste. Our team at Bio Solutions Tennessee will not only serve you with quality blood cleanup but will treat you with the highest level of respect and dignity you deserve. Always here to help, we understand accidents don't happen according to any schedule and so we are available 24/7 with EPA registered and eco-friendly chemicals that are safe to use in any environment.
Workplace Accidents Requiring Blood Cleanup
Even with the greatest precautions taken, accidents can still happen in a place of business. Due to the materials at a work site, these accidents can have catastrophic consequences if not taken care of properly. To protect your employees, customers, and your business's reputation, call us at Bio Solutions Tennessee for fast blood cleanup that protects you and your business. We have the tools and equipment needed to get blood out of the tiny nooks and crannies in machinery.
Blood Cleanup At Crime Scenes
Our compassionate and experienced team knows what a traumatic time it can be after a crime has been committed on your Knoxville property. With strong cleaners and odor removal techniques, we are here for you to help you through this difficult time by making sure the property is restored to what it was before the incident. Working fast and diligently, we make sure all the blood, investigative chemicals, and other hazardous substances are fully removed. By the time we are done, all traces of the crime will have been cleaned and the area restored so you can move forward.
The Cost of Cleaning Up Blood
Blood cleanup is usually covered by your property insurance policy as blood can damage a structure. To make it easy for you, we'll fill out all the insurance paperwork and file the claim on your behalf along with all the needed documentation. In case you are not covered by insurance, we will gladly work with you on cost and payments. Our priority is your safety and we always put people first.
Call Bio Solutions Tennessee With Any Questions
Do you need immediate blood cleanup or have any questions we can answer? We are here to restore your home and business anytime. Simply call us at (865) 806-2521 and we'll be there to restore your property and help you move forward. Locally owned and with a "people first" business model, you know you're in good hands with Bio Solutions Tennessee.
Biohazard Cleaning Services
Call Now
(865) 806-2521 - Knoxville
(931) 538-3347 Clarksville